Publication Plan November 2022
Ended on the 23 December 2022
2. South Staffordshire: Setting the scene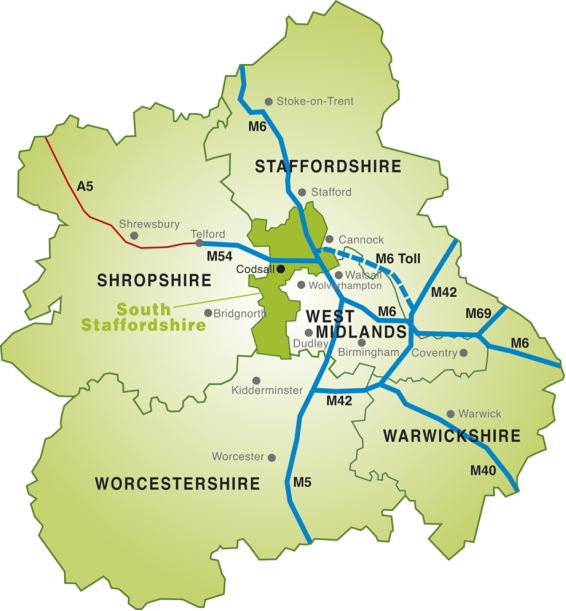 (1)2.1 South Staffordshire is a rural district on the north-western edge of the West Midlands Conurbation. It has an area of 101,000 acres (40,400 hectares) and a population of around 111,200 residents. Much of South Staffordshire (80%) lies within the West Midlands Green Belt (32,089 hectares), with the area beyond the Green Belt to the northwest of the district defined as 'Open Countryside'.
(1)2.2 South Staffordshire is the southernmost of the nine Staffordshire authorities in the County. The district adjoins the major urban area of the West Midlands Conurbation including the Black Country boroughs of Dudley, Walsall and the City of Wolverhampton. The district also shares its boundaries with Shropshire and Telford to the west and Stafford to the north, with the County of Worcestershire to the south.
(1)2.3 South Staffordshire has previously been a focus for inward investment resulting in substantial economic growth in the district in recent years. I54 South Staffordshire in particular has attracted internationally significant businesses such as Jaguar Land Rover, and the consent via a Development Consent Order (DCO) of the WMI Strategic Rail Freight Interchange is likely to see continued strong investment in the district. South Staffordshire is part of the Staffordshire and Stoke Local Enterprise Partnership (LEP) with their Strategic Economic Plan (2018) highlighting auto-aero as a priority sector of particular relevance to South Staffordshire.
(2)2.4 South Staffordshire has a rich legacy of historic villages, buildings and landscapes with conservation areas, historic parklands and gardens, and buildings of local importance. These define the local identity and distinctive character of the historic environment of the district. The varied landscapes in the district are also home to a rich biodiversity resource, providing many types of habitats including areas of international, national and local nature conservation importance.
(1)2.5 South Staffordshire has historically proven to be an attractive location for people to live. It has been a destination for people moving from the West Midlands major urban area and other nearby towns. Pressure for housing growth over and above the needs arising purely from within the district has continued.
2.6 South Staffordshire is made up of 27 parishes with a dispersed and diverse settlement pattern of villages, ranging from small hamlets to large villages with over 14,000 residents, each with their own distinctive character set in attractive countryside. The district has no cities or towns and no single dominant settlement.
(2)2.7 Larger villages such as Bilbrook, Brewood, Cheslyn Hay, Codsall, Great Wyrley, Kinver, Penkridge, Perton and Wombourne contain a wide range of community facilities and services. These include libraries, sport and recreation including leisure centres, shopping, commercial and employment areas, and serve the smaller outlying villages and hamlets. However, local residents rely on the services provided within towns and cities outside of the district to meet some of their higher order needs, such as hospitals, certain types of retail needs and some employment opportunities.
(1)2.8 Due to the nature of the district and the dispersed settlement pattern, a settlement hierarchy approach has been devised to reflect the level of service provision at each settlement. This has been informed by the council's Rural Services and Facilities Audit (RSFA) 2021. The RSFA does not specifically determine how much growth should be attributed to settlements but does offer a guide by helping determine their comparative level of sustainability, and as such, their potential suitability for accommodating additional growth. Tier 1 villages are assessed as having the greatest access to services and facilities relative to other settlements, with Tier 4 settlements the lowest. The proposed settlement hierarchy is detailed on Map 1 below.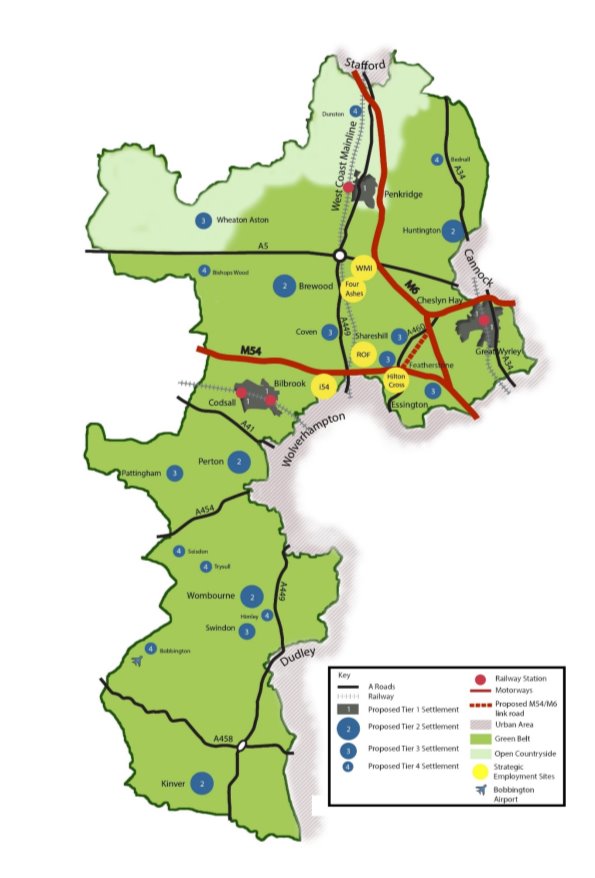 Map 1: South Staffordshire context map and proposed settlement hierarchy
back to top
back to top